God bless America! Land of the free, home of the glazed turkey that"s about to make its way into my belly on this great, fattening holiday known as Thanksgiving. But before we all go stuffing our pie holes with stuffing and pie, let"s take a moment to give thanks to all the things that make our lives worthwhile…
Did I say "things?†I meant "games.†Because let"s face it, that"s all we REALLY should be thankful for, right? Or maybe I"m just an ungrateful nerd. Either way, there are certainly loads of video games to be thankful for, many of which came out this year. Whether a series you love finally got that sequel you were waiting for, a new IP was introduced that blew away your expectations, or a game is just really, really good, it"s a fine year to be a gamer. So join me as we give our thanks to these 13 games that 2015 had to offer.
Note: This list is in no particular order. They"re still numbered, though, because SHUT UP AND JUST GO WITH IT.
---
First up is probably the only game that has an actual Thanksgiving. Well, okay, so it"s technically a "cooking exhibition,†but it"s on the 25th of Fall and is the only cooking festival in the game, so it"s pretty obvious that it"s this game"s version of Thanksgiving.
Anyway, after Natsume decided to no longer work with Marvelous to produce new entries into the Harvest Moon franchise but still hold onto the license, leading the publisher to develop the worst Harvest Moon yet, Marvelous decided to create a new series called Story of Seasons. It"s basically the developer"s way of giving fans the game they REALLY wanted. Thank you, Marvelous. You really are quite marvelous.
​
---
Do you know how long it"s been since we last got a home console game starring Yoshi? I"ll give you a hint: Yoshi"s Story was the last one, and that game came out way back in 1997. Do the math. Yeah, it"s been a while. True, there HAVE been handheld iterations of Yoshi"s Island, but it"s nice to finally get a new Yoshi game that I can play on my TV.
And boy is Yoshi"s Woolly World a "new†Yoshi game. As its name implies, Yoshi"s Woolly World is…well, very woolly. Seriously, just about everything is made of yarn. And in high-definition on the Wii U, it"s just plain gorgeous. Not only that, but several other factors make this a really great game in general. Thank you, Yoshi, for bringing me so much joy this year.
​
Dragon Ball Z is undoubtedly one of the most popular anime series of all time. And if you are a DBZ fan like I certainly am, then you"d probably enjoy Dragon Ball XenoVerse quite a bit. It"s basically a love letter to fans, allowing you to create your own character and traverse the DBZ timeline as you fight all sorts of notable villains, from Raditz to Beerus and even some GT baddies, granted you go get the GT DLC.
Now, in no way is Dragon Ball XenoVerse a masterpiece of a game or anything. It should be said that on its own, it"s really not a game you need to go out of your way to play. However, as a fan of Dragon Ball Z, there is plenty to love about this game. It"s wonderfully entertaining for people who like the series, and for that I am very thankful.
​
It"s pretty much unanimous at this point that Rare – the formerly legendary developer of some of gaming"s most beloved games, such as Donkey Kong Country, Banjo-Kazooie, and the Nintendo 64 adaptation of GoldenEye 007 – has fallen from grace in recent years. And it certainly doesn"t help that most of the team responsible for such gems have since left to start their own companies, with one of those companies working on a spiritual successor to Banjo-Kazooie, which goes by the totally different name of Yooka-Laylee.
Of course, Rare certainly does realize that their best years are behind them. And as their way of celebrating their 30th anniversary, the developer has blessed us with Rare Replay. It"s an Xbox One game that combines 30 of Rare"s greatest creations (though there are a few stinkers in the mix) into one, incredibly solid compilation. It also costs a measly $30 (okay, we get it, you"re 30 years old). I"m happy buying just one of your games for $30, Rare. Giving me 30 for that price? Well, thanks for that.
​
Fatal Frame: Maiden of Black Water
When Nintendo first unveiled the Wii U back at E3 2011, anyone who was aware of the Fatal Frame series likely thought the same thing: "A Fatal Frame game would be PERFECT for this console!†And why shouldn"t people think that? If you know of the series, you know what I mean.
So then it finally happens. About three years after the console"s release, we finally get that Fatal Frame game we were expecting, known in the states as Fatal Frame: Maiden of Black Water. Of course, considering how obvious a choice a series such as this being on a console such as the Wii U is, the fact that it was made isn"t really the surprising part of Maiden of Black Water"s release. It"s the fact that it was localized at all that was unexpected, since it"s not exactly all that popular over here. But alas, we got an English version (albeit a digital-only one), and I am quite thankful for that.
​
Every console deserves a badass, exclusive new IP to call its home. For the PlayStation 4, that game is Bloodborne. It was originally going to be the launch title Knack, but… Meh, that game wasn"t very good. Bloodborne, however, is fantastic. Not only is it a must-have for the PS4, but I might even go so far as to say that it"s a pretty valid reason by itself to get the console.
For those of you unfamiliar with Bloodborne, let"s just say that if you like any of the Souls games, then this game is right up your alley. And if you don"t, then you"ll still like it SO GO PLAY IT ALREADY. Seriously though, Bloodborne has a lot to like about it, its H.P. Lovecraft inspiration only being one of them. It"s a masterfully crafted game, and I am so very thankful that it exists.
​
In case you weren"t aware, I REALLY enjoyed my time with Xenoblade Chronicles for the Wii. Naturally, I was ecstatic when I first saw the reveal trailer for its sequel (known simply as "X†at the time). Xenoblade Chronicles X looks fantastic, and the more I see of it, the more excited I get for its release next month.
Okay, yeah, I know, it"s not out yet so it"s not fair to have it on this list and blah blah blah. Look, as much as I like Xenoblade Chronicles, I have faith that Monolith Soft can deliver yet another awesome entry into the series. It certainly looks like it"ll be awesome, at least. Plus, this is my list, so shut up. Anyway, I still think it"s crazy that another Xenoblade was even made. But I"m not complaining. In fact, playing Xenoblade Chronicles X will probably be all I do in December. Thank you, Monolith Soft, for giving me that option.
​
To put it simply, The Witcher 3: Wild Hunt is one of 2015"s best games. Many people will agree with me on that. But wait, you"re saying you haven"t played the first two? Well good news! Turns out The Witcher and The Witcher 2: Assassins of Kings are both really good too. So, like, go play "em. Of course, neither can quite match the awesomeness of the third game in the series, which is currently the series" best.
What makes The Witcher 3: Wild Hunt so great doesn"t narrow down to just one aspect, as it"s a fantastic package all around. Great gameplay, great music, a great story; it"s a pretty top-notch work of art. It"d be nice if the series continues, but whether it does or not, I"m thankful that I had the opportunity to play through not only The Witcher 3: Wild Hunt, but the other two as well.
​
Whether you are a kid or a squid at this particular moment in time, you"ve probably heard of the inkredible shooter known as Splatoon. After all, it"s Nintendo"s newest IP. But is it any good? Will it be able to join the ranks of Nintendo"s top dogs like Mario and Zelda? Is it worth buying a Wii U over? The answer to all those questions is a resounding YES.
Seriously, Splatoon is one of the most creative games I"ve played in a while, and definitely the most creative shooter I"ve ever played, which complements quite nicely with the insanely fun gameplay, both in multiplayer and single-player modes. Splatoon"s fun factor and creativity also help this game, along with the massive level of charm the game exudes, stand out as, in my opinion, the start of Nintendo"s next hit series. And I must give The Big N my thanks for letting a game like this out into the wild.
​
StarCraft II: Legacy of the Void
It"s been a fun ride for StarCraft fans since StarCraft II: Wings of Liberty was released five years ago. That game was definitely a worthy sequel to the original, even though you couldn"t yet play as the Zerg or Protoss. Thankfully, Blizzard didn"t stop there. In 2013, we got StarCraft II: Heart of the Swarm – the second part of the StarCraft II trilogy, which gave us a Zerg campaign.
And now, in 2015, we have at last been given the Protoss, thanks to the final piece of the trilogy known as StarCraft II: Legacy of the Void. Much like the base game and its Zerg expansion, Legacy of the Void is fantastic. As far as strategy games go, StarCraft II is probably among the best. And I am very thankful to Blizzard for allowing me to complete the full experience at last.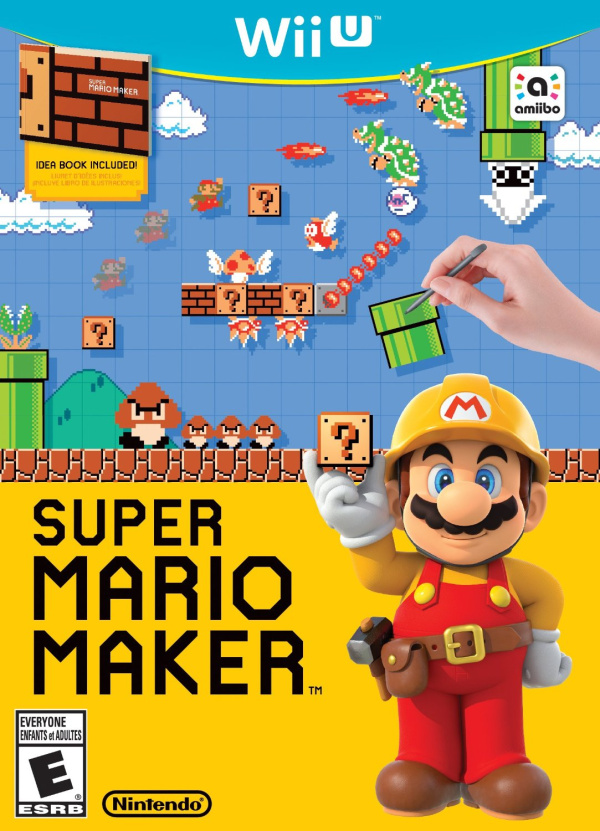 I have been a fan of Mario games ever since I was old enough to hold a controller and comprehend how it works. Super Mario World was my first, but I also had Super Mario All-Stars, which allowed me to play the ones that came before it without needing an NES. And growing up playing every entry into the main Mario series, I always admired the fantastic level designs. There were even times when I myself thought about how I would design levels.
Enter: Super Mario Maker for the Wii U. Finally, designing Mario levels was no longer just a passing thought. Here is a game that is all about making levels. Not just one style either, but the styles of four different Mario games. And not only that, but you can even share your levels with the world, as well as play levels from other level creators. Super Mario Maker is a game I never even considered as something I would see released. But it exists, and it"s awesome. Thank you, Nintendo.
​
Metal Gear Solid V: The Phantom Pain
If you haven"t heard the disheartening news yet, Hideo Kojima – father of the Metal Gear series and the would-be director of the ill-fated Silent Hills (the game P.T. would have become) – was let go by Konami. It sucks like a black hole, but at least the man was able to go out with a "bang.†In fact, his last game was quite possibly his best, and not only in the Metal Gear series, but of his entire career. That game is, of course, Metal Gear Solid V: The Phantom Pain.
And I"m not exaggerating either. Just go check out the review scores. It"s a really, really, really good game. Hideo Kojima and his team are masters of their craft, and simply put, Konami is incredibly stupid for letting such amazing people get away. You will be missed, Hideo Kojima. Thank you for Metal Gear Solid V: The Phantom Pain and everything else you"ve ever given us.
​
It"s no Half-Life 3, but Fallout 4 is one of those sequels fans were hoping to hear news about year after year following the release of Fallout 3. I mean, sure, we did get Fallout: New Vegas, but it simply wasn"t enough. I dunno, I guess there"s just something about numbers that ups the hype factor for people.
Sure enough, though, we got it. And Fallout 4 is every bit as awesome as we all hoped it would be (though it could use some patches here and there). Hell, news even broke out that a certain porno site lost a lot of traffic the day the game was released. So yeah, Fallout 4 is some serious business. And I can"t thank Bethesda enough for bringing the game into my life. Now if you will all excuse me, I need to go find Shaun…
​
Do you agree with any of the games on this list? What games are you thankful for this year?