It's been a long time since October 2013 when Mighty No. 9 was successfully funded via Kickstarter. Fans have been patiently awaiting a release date, and now (not too far from the end of their promised April 2015 window), news has finally come--with a twist!
The game will release on September 15th, 2015 in North America. And it's coming to Europe and the rest of the world on September 18th. Indeed, this is quite far away from the original release month, but there's a reason for that. Comcept has teamed up with Deep Silver (Saints Row, Dead Island and more) to bring Mighty No. 9 to other places, other platformers, and to offer additional content.
More specifically: the game will now feature Japanese, French and other voice-overs, and will come to portable platforms sometime later. Also: there's going to be a physical release (different from the Kickstarter-exclusive one that many backed) on all next-gen consoles, and a downloadable character and level--free for backers. Here's a handy little info graphic to go into more detail.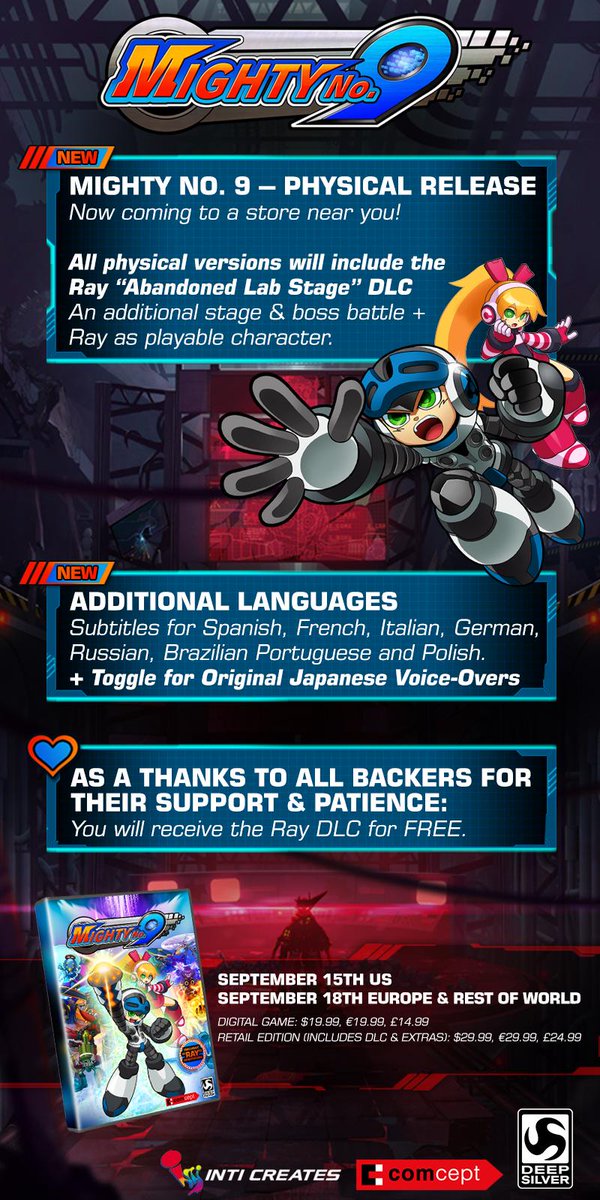 Skeptical? Comcept has prepared an FAQ that will hopefully answer your questions. All in all, it seems like this news and partnership (while it comes with a delay) should help make Mighty No. 9 better than it was before, and help it to reach more hands.
​Source: Mighty No. 9 Official Site
How do you feel about this news? Are you a backer of the project? If not, are you planning on picking up Mighty No. 9 when it releases this fall? Be sure to let us know!