Have you heard of Race The Sun? It's a pretty neat indie game in which, as a solar powered aircraft, race as far as you can before the sun sets. Levels are procedurally made, so you'll get a new experience every time, and obviously it's very fast paced.
Well, it's been a month since the game has officially been released, and developer Flippfly has a few things to say about their release.
First, Flippfly mentions that there weren't a ton of reviews of the game itself by big gaming sites, there were mentions of some form from some 100 media outlets, which they are proud of. That's a pretty big number for an indie company that isn't well-known and watched by the mainstream.
But, that doesn't matter much if the game doesn't sell. In its launch month, Race the Sun sold 771 copies from their website, which is the only place you can buy the game right now. However, the graph they show looks pretty discouraging: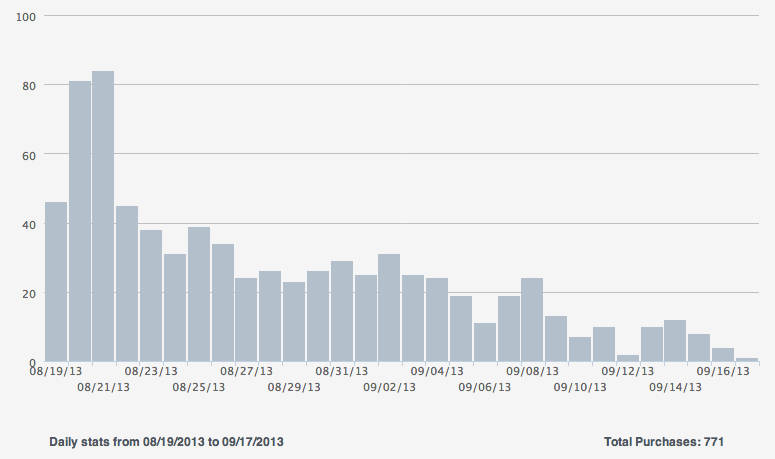 Sales of the game dropped off pretty rapidly. The reason? Aaron attributes it mainly to not being on Steam yet:
"...it feels like there are two attitudes that have become prevalent among many PC gamers: "I"ll buy it when it"s on Steam.†and "I"ll buy it when it"s in a bundle.â€
I"m just not sure it"s realistic to expect to be able to support yourself solely with self-distribution via your website in 2013, unless you"re Minecraft."
Also, trying to fit Race The Sun into a specific genre hurt the game in a way they hadn't intended. By saying that Race The Sun was an endless runner, many people mistook the game for... another generic endless runner, and therefore didn't really give the game a chance.
As Flippfly looks forward, they're trying to look at how to make Race The Sun profitable again. They look towards possibly going to other distribution services (though Steam is still their target service), mobile releases, and possibly even re-designing the game as a F2P title. A few publishers have taken notice of the title, but Aaron notes that they want to keep their independence involving the game's development, so they will not be going that route.
Finally, Flippfly leaves us with a few words, looking back at the last month?
"We"re not anywhere close to giving up on this game, but it"s been a rough start. Perhaps the biggest takeaway is that if you want to find financial success, you should not only make a great game, but partner with proven, trusted distribution platforms that can connect you with an audience that"s ready to pay."
If you're interested in Race The Sun, you can go check out its website here, or maybe give it an upvote on Greenlight.
You can see the entirety of Aaron's post-mortem here. I've left out a lot of juicy bits, so if you're interested in other more statistics and thoughts, it's worth a read.
What do you think of Flippfly's success (or failure) with their game?