Publisher: K Bros Games
Platform: PC and Mac (Steam)
Release Date: October 28, 2015
ESRB: RP for Rating Pending
In the realm of video games, the independent scene has opened the door to a countless number of developers who otherwise would probably not have gotten the chance to release their dream games. Sometimes the result is a masterfully-crafted, one-of-a-kind work of art, while other times you get quite the contrary. And then you get games that are somewhere in-between. Albert & Otto: The Adventure Begins -- episode one of a four-episode game -- is somewhere in that gray area.
Speaking of gray areas, the game itself has plenty of those. That's one thing you'll notice right away, and you'll love it. In fact, Albert & Otto: The Adventure Begins has quite a few things to love about it. But as it's floating somewhere between a masterpiece and a pile of garbage, in a Limbo of sorts (the similarities with the game Limbo is purely a coincidence and had no bearing on what I wrote here), the game also has quite a few things to hate about it. So then, is it worth playing?
Albert & Otto's plot is both darker than I expected and better than I expected. The game opens up with the sister of the protagonist -- the Albert of the game's moniker -- sitting outside their house with her beloved stuffed bunny Otto before a mysterious shadow comes by and whisks her away. And so Albert, armed with a gun for some reason, sets out to save her. Early on, you find Otto, alone, and take him along for the ride to help you on your journey. But throughout that journey, through letters picked up along the way with pictures drawn by none other than your sister, you start to learn that what's going on goes much deeper than a simple damsel-in-distress story.
Much like Limbo, the story of this game is told very quietly. There's no text or voice that tells you what's going on, and yet it's not all that difficult to figure it out. You can piece together what really happened to your sister fairly easily (as much as episode one reveals, at least), and if you're perceptive enough, you can also tell that the game is set in pre-World War II Germany. Although, I kinda just told you, so I guess you don't have to be all that perceptive...
Anyway, the dark nature of the plot and setting make the story of Albert & Otto quite compelling. And even though there are aspects of this game that will infuriate you to no end, you might find yourself too interested in the story to call it quits until the credits roll.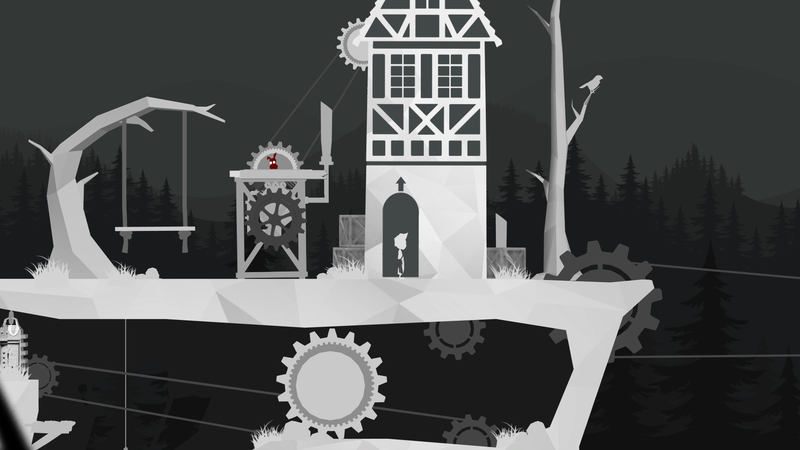 I mentioned before that you'll love the grayness in the world of Albert & Otto. And while you may have a different taste in art styles, it's most certainly what I liked most about the game. Inspired by the early stop-motion works of Tim Burton, nearly the entire game is in black-and-white with a few exceptions, such as Otto himself being red -- reminiscent to the little girl wearing the red dress in the movie Schindler's List (which interestingly also takes place in Germany, only during World War II). The minimalist aesthetic adds a lot to the game's somewhat depressing tone, which all makes for a pleasantly atmospheric experience.
The music in Albert & Otto: The Adventure Begins also does a nice job in complimenting the plot and setting, lending itself well to the atmospheric nature of the game. It's nothing that really stands out as anything more than the game's background score, but it's a score that fits the experience nicely. Especially when you hear who I assume is your sister humming every so often, which I find to be beautifully eery.
But not all is well with Albert & Otto: The Adventure Begins. While the story is intriguing and the aesthetics beautiful, where the game falls short lies within its gameplay. Look, I'm up for a challenge and all that, but there's a difference between a well-crafted challenge and a cheap, unfair challenge that relies less on thought and skill and more on trial-and-error. I liked some of the puzzles, since the game does have some well-crafted, skill-based ones, but I found myself dying far too many times while attempting a lot of them. Mostly because quite a few puzzles give you very little time to think about the solution. Like with the two bosses in this particular episode.
It's infuriating that you have to keep dying just to solve a puzzle. And in the case of the second boss, once you FINALLY beat him, a task made unnecessarily difficult thanks to the game forcing you to move almost impossibly fast, the game throws a bird at you that you can't see because it's off-screen until it attacks you and you can't hear because the end of the boss song is too loud. And it wouldn't be that big a deal if the checkpoint system was thought out more logically. There are simpler moments when checkpoints are very close together, but then when you need a checkpoint the most, you don't get one and have to restart way, way back if and when you die.
It also doesn't help that there are some problems with the game's physics. Your ability to levitate objects gets extremely frustrating when the object you grab starts moving around wildly and it takes too much time to calm it down. It's not that bad during puzzles you can solve at your own pace, but it becomes a grave annoyance during the ones with very short time limits. There's also one aspect that I just found oddly sloppy from a development standpoint, where when you die and go back to the last checkpoint, you start moving again before the previous event is even over. I appreciate fast loading times, but at least give the world time to catch up with the player.
With all of this game's downsides in terms of gameplay, though, I will give it kudos for one thing; there's an area where you have to use a burning sheep as a torch to see in the dark. Now THAT is awesome. I can't say I've done that in any other game before.
Albert & Otto: The Adventure Begins isn't a bad game, but it does have problems that unfortunately weigh it down, keeping it from being as great as it potentially could have been. The story is great, though, the game has a gorgeous art style, and the score compliments the game's atmospheric tone nicely, so it certainly has its upsides. It's just unfortunate that I didn't like this game as much as I was hoping to. Hopefully the problems are dealt with and episode two turns out better. As for episode one, I'd say if you have $5 to spare, it's a decent enough investment. If you like Limbo, then this game is worth trying.
---
+ Very deep and symbolic story, however quietly it is told
+ Gorgeous Tim Burton inspired art style
+ Beautiful score that compliments the atmospheric tone
+ USING A BURNING SHEEP AS A TORCH
- Cheap, unfair challenges that rely too much on trial-and-error
- Problems with the game's physics
- Some sloppily-developed parts
---
Overall Score: 6 (out of 10)
With an intriguing story and a beautiful aesthetic, Albert & Otto: The Adventure Begins has its upsides. Unfortunately, its downsides keep it from being as great as it potentially could have been.
A downloadable code was supplied by the publisher for this review