Release Date: February 5th, 2015
I"m a glutton for punishment. I"ve cursed aloud and thrown controllers at maddening, yet skillfully designed action-platformers since the days of Shadow of the Ninja, DuckTales or Little Nemo: Dream Master. I"ve played through most, if not all the essential games that bring "Nintendo hard" to the modern age like LA-MULANA, Shovel Knight, 1001 Spikes, and Rex Rocket. So, when I saw the trailer for Nicalis' Castle in the Darkness, I knew exactly what to expect. I"m going to get gray hairs in my thirties because of developers who dig driving you insane with a few meticulously placed spikes. These are the kinds of games I can"t help but analyze as I play through them (because I spend so long dying over and over in any given level).
There are two schools of game design when it comes to evoking nostalgia. The first includes games that seem to be inspired by the past, but wish to evolve tried and true formulas with modern ideas. The second are those games that do everything short of teleporting you back to the past, because of limitations developers/designers impose upon themselves to make a game feel like it belongs in the late eighties or early nineties. Castle in the Darkness is definitely an example of the latter.
There"s not much to the game"s story beyond what you see in the trailer or the first five minutes. In terms of protagonists, there"s a surviving soldier, a princess, and a frog. There"s little development to be had between them because the game"s script is purposefully confined to match any original Nintendo game you've ever played. With that in mind, the game"s writing still has its humor and charm; developer Matt Kapp definitely knows his audience. There"s more than one Legend of Zelda reference sprinkled into your adventure, and there"s even a few nods to other Nicalis-published games if you do a bit of exploring.
Staying with talk of the game"s presentation: the visuals manage to successfully emulate the intended era, as well as push the envelope a bit. In fact, the word PEE is written out in stars on the night sky of an area; you can spot that subliminal humor if you"re looking hard enough. The soundtrack is definitely quality work as well, but while each tune is catchy, Castle in the Darkness lacks the musical variance you"d typically find in recent games like it. Still, I think the game"s presentation as a whole is purposefully limiting, to make you feel like you"re in 1987. I can"t fault it for being consistent with its identity.
I could write a novel on the things this gameplay does to a person—both good and bad. To prevent myself from doing so, I"ll first address this—there are plenty of things to do outside of the "main" experience. The title menu has a whole section of secrets...from an "Easy Mode" that mocks you if you die enough, to a "Prologue" of sorts and other early game builds from early development. Of course, there are achievements too. There"s even a New Game+. For just under six dollars in price, there"s certainly a lot to play.
Mechanically, though, you"ll start to see why the game is priced like it is. I recall looking at my game time somewhere close to the end. The game itself had my total playtime at around two hours at that point, but Steam told me I"d been playing the game for over nine hours. That"s the kind of experience this is—few hours actually registered, but many hours will pass as you attempt to conquer its plenty of torturous trials (there"s an actual part of the game called the Torture Chamber that almost frustrated me to the point of putting the game down).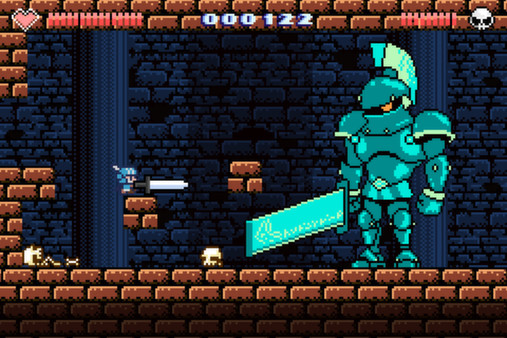 Your character is extremely fragile at the start of the game, but by the time you make your approach towards the final boss, you'll have collected sufficient health, armor and weapons to hold your own. The most frustrating aspect of the game isn"t the difficulty of the level design itself, but the lack of proper save points in the later portions of the game. In the beginning, the means to save and equip your items are fairly placed, giving anyone brave enough to play the game a fair chance to pace themselves without becoming frustrated. But by the time you reach a point where the game"s entire world is open to you (and trust me, it"s a big, bad world...and it includes plenty of levels, many optional and built for those who backtrack after getting key items that allow you to do so), save and warp points are placed in downright cruel spots. The cheap tricks that some of these level designs and bosses play will leave a great many who want to become more skilled by playing these kinds of games far too aggravated with Castle in the Darkness to see it through to the end, in my opinion.
Without speaking volumes: At the end of most of these purposefully punishing games, I often find myself grateful for them. Despite their flaws, I kind of feel like I"ve been hardened as a veteran platformer-guy for having taken up their challenge. The thing that makes me hesitant to recommend this game to everyone is the fact that you really don"t feel hardened by the end of it. Your ability to overcome obstacles in Castle in the Darkness isn"t necessarily determined by an increase in skill—it"s more due to an increase in stats. Whether you"re getting more health by beating bosses or going way out of your way to backtrack and grab a more powerful weapon, I think it"s less about acquired skill and more about acquired stuff.
At the end of the day, Matt Kapp knew what kind of game he wanted to design, and he was definitely successful at it. In the land of games that are indeed "Nintendo hard," Castle in the Darkness won"t be forgotten. The reason I can"t call this game essential, or perfection, is because most who challenge it will remember it for the frustration it made them feel versus the many things that make it a good game.
---
Pros:
+ Appealing presentation overall, with just as much humorous nods as it has confidence in its identity.
+ Reasonably priced. There's plenty of content to enjoy outside of the main game.
Cons:
- Has major pacing issues overall, with some later areas feeling more unfair than challenging.
- Overcoming obstacles may sometimes boil down to acquired equipment versus platforming skill.
---
Overall Score: 7 (out of 10)
Good
Some games shine a little light on the past. Castle in the Darkness hearkens back to an era so challenging, it will chip away at your soul as you attempt to conquer it.
Disclosure: This game was reviewed using downloadable code provided by Nicalis