Developer: Sucker Punch
Publisher: SCEA
Platform: PS4
Release Date: August 26, 2014
ESRB: T for Teen
Drugs, dealers, death, and destruction. Infamous: First Light, the first standalone DLC for Infamous: Second Son, is a dark prequel that builds a strong backstory not only for the neon-powered Fetch but the city of Seattle itself.
As players learned in Second Son, Abigail "Fetch" Walker, ran away from home at a young age with her brother Brent as her parents were handing her over to the Department of Unified Protection. Infamous: First Light finds Fetch stuck in the conduit prison Curdun Cay relaying the story of her and her brother's struggles two years previous to DUP director Brooke Augustine. During the course of the interrogation, the game bounces back and forth between Fetch reliving her past in Seattle and fighting through Augustine's trials at Curdun Cay.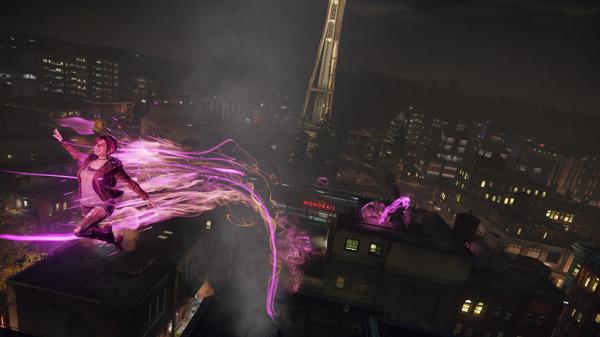 While in Seattle, Fetch and Brent find themselves taking shady work from unsavory people to make money and stay off the grid. When one of the deals goes bad, Fetch is forced to reveal her powers and things get complicated. She continues to complete tasks with murky moral boundaries to rescue her brother, captured during the botched mission at the game's opening. Sucker Punch delivered a moving narrative of how the combination of drug addiction and uncontrollable power engulf Fetch and create the character Delsin meets later in Second Son.
The Emerald City of First Light is much different than that of Second Son. These streets are free of DUP checkpoints, cops are fighting the Akuran gangs, and sightings of conduits are non-existent. However, as Fetch begins to reveal her powers, the city evolves. The DUP presence slowly ramps up while the police and Akurans find a common enemy in the conduit who has invaded their city. It quickly becomes clear how a DUP-controlled Seattle came to be and why the city's residents may have accepted it.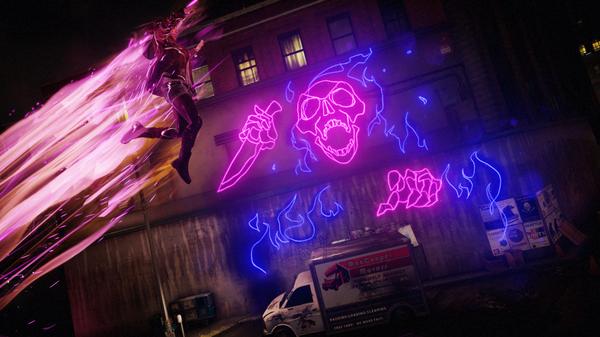 From a visual standpoint, Seattle is as gorgeous as ever. Second Son's initial section featuring the Space Needle is completely playable with new side missions filling each city district. The PS4 flexes it's muscles once more creating beautiful environments and impressive lighting effects. This is, of course, perfect for an open-world game whose protagonist wields neon light as a weapon.
First Light's flashy combat is quick and accurate. The neon power is more than just dazzling to look at when you begin to consider the vessel it resides in. Fetch's struggle with drug addiction melds with her flamboyant power to encapsulate the emotional roller coaster she rides throughout the story. While the combat lacks the diversity Delsin enjoyed in Second Son, it is enough to keep players interested. Skill points unlocked by completing side missions in the game allow techniques to be unlocked and upgraded similar to other entries in the Infamous franchise.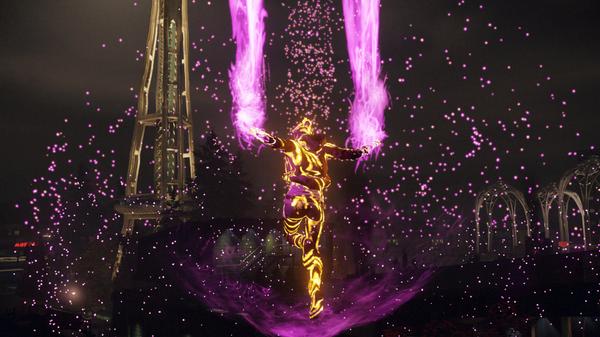 Side missions return in the form of lumen gas races, police camera dismantling and laser graffiti quests. While they are a bit meatier than those of Second Son, they are fewer in number. The motion-controlled laser graffiti missions handled particularly clunky compared to the similar spray paint missions of Second Son. All and all, if you didn't enjoy the side missions playing as Delsin, you probably won't enjoy these either.
The battle arena of Curdun Cay, First Light's primary feature addition, was masterfully introduced into Fetch's story. Here Augustine pushes Fetch to let her emotional guard down and unleash her full potential as a conduit. Fighting through waves of digital projections presents a challenge and makes up for the lack of major battles in the story. Once the main narrative is completed, the arenas can be replayed in Survival or Rescue modes. As you may have guessed, Survival consists of defeating waves of DUP agents while Rescue involves saving citizens also while fighting off the DUP. Additionally, If the Second Son game save still exists on your PS4, Delsin becomes playable in the arenas.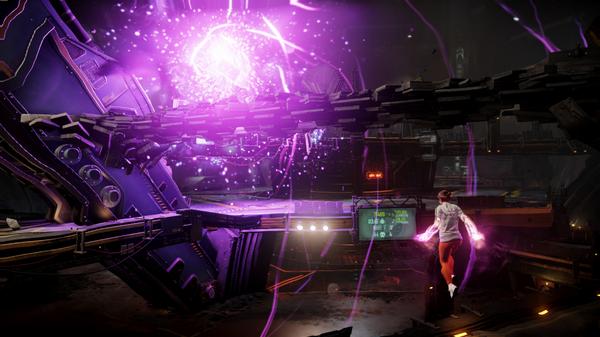 Second Son's photo mode is also present in First Light. A genius marketing move by Sony and Sucker Punch, photo mode perpetuates the socially connected mantra even in this, a single player game. It allows gamers to share jaw-dropping screenshots unique to their experience via Twitter, Facebook or really any social media platform. In fact, all of the screens displayed in this review were taken during my personal playthrough.
Infamous: First Light builds a compelling narrative for how the Fetch and Seattle of Infamous: Second Son came to be. The depressing prequel story she tells is moving. As a protagonist, Fetch evokes more emotion than Delsin did, ironically, without the use of forced moral decision-making. While side missions again fall short, the battle arenas add hours of additional gameplay. Sucker Punch once again delivers the high-quality presentation and combat fans have come to expect.
---
Pros:
+ Fetch has an emotional, dark story to tell
+ The neon powers are as dazzling as the Emerald City itself
+ Battle arenas add hours of gameplay
+ Photo mode is an impressive social tool
Cons:
- Side missions are improved but not enough
---
Overall Score: 9 (out of 10)
Fantastic
Infamous: Second Son's first standalone DLC is a winner. Combining the combat and visuals of the full release with a more compelling protagonist makes Infamous: First Light a steal at $14.99.
Disclosure: This review was written based on a PSN download purchased by the reviewer