Krater
is a weird game. There's nothing quite like it, and the closest thing gamers will likely compare it to is
Torchlight
and
Diablo
. But
Krater
is its own gig, a quirky, squad-based post-apocalyptic loot-a-thon. It's linear for the most part but I loved the little exploration I could do, taking in the gorgeous ruined towns and landscapes. While it's very difficult for me to say why I really like it,
Krater
has really captured my attention. It has this
Zeno Clash
artistic undercurrent crossed with
Team Fortress II
, and the action-RPG mouse controls perfectly suit the kind of game
Krater
is; an unapologetic
Diablo
hybrid beast.
What's different than
Diablo
, however, is the emphasis on your squadmates. Each has his her own role to play in the team. Medikus is, well, a medic. The Bruiser just walks around and smashes stuff. There are other troopers, each filling in their roles with a set of unique skills. It's a nice feeling to have company, especially when the crowds of enemies close in. Believe me, Medikus will prove an invaluable ally early with his powerful healing buffs.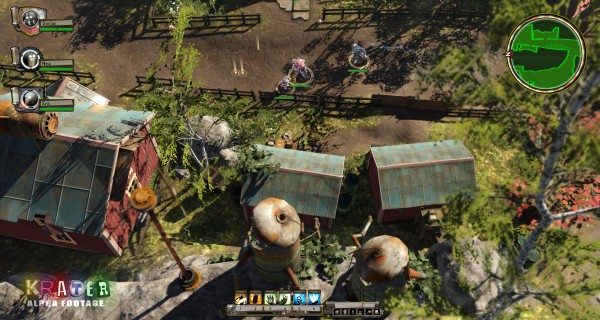 I haven't explored the crafting and bartering mechanics much but they are in place. From what I can tell, weapons and such can be upgraded, sold, or purchased. They all have their own stat boosts and KR (the currency) resale values. It's your typical RPG looting affair, and
Krater
manages to tick all of the boxes for a dungeon-crawler. Once I have more gear to work with, I'll dig in and see what I can do!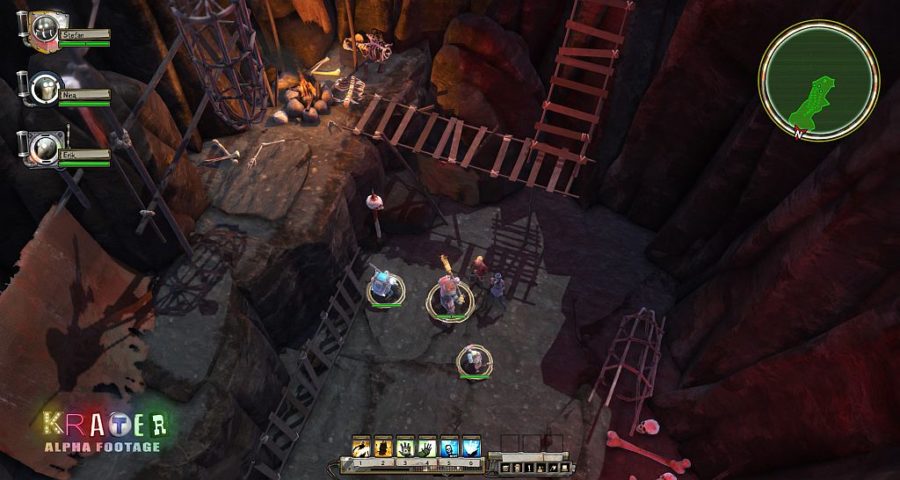 I must stress how pretty this game looks. On Extreme settings,
Krater
is absolutely gorgeous, considering it's both and indie title and a dungeon crawler. In some ways, I'd say it outclasses
Diablo III
with its skillful use of lighting and vibrant colors.
Krater
is a downloadable title with a budget price of $15, but the visuals would beg to differ. The audio is funky, with slightly creepy voice-overs giving a quirky life to the whole cast of NPCs and player characters. The musical selection is also wonderfully funky, featuring odes to 80's-era music and contemporary rock. At least, I think that's what is going on. It's hard for me to tell as
Krater
is a weird, weird, weird game at points.
While this is just the beta, I'm quite impressed with what I've played. At $15,
Krater
is a bargain dungeon crawler that can easily stand alongside any of its competitors.
Torchlight
and
Diablo
lovers take note:
Krater
is worth your money!
Too cheap to shell out the cash? Simply leave a comment below and discuss your thoughts on the game/genre and you're entered to win a copy of
Krater
!