Some pretty interesting headlines coming your way today, including a few release announcements and a few rumors that, if true, indicate some interesting things are on the horizon.
Check out the headlines below!
No Man's Sky coming in June, priced at $60
After a faux-scare on Tuesday with PlayStation Blog accidentally making people think that the long-awaited No Man's Sky was coming out on 3/3 (it was actually when the pre-orders started), Hello Games confirmed that the game's release date will be on June 10 and it will be $59.99.
No Man's Sky is also getting a hefty collector's edition (limited to 10,000 copies) that comes in at $150. This edition includes a digital copy of the game, a hand-painted, 8-inch replica of the ship from the game, a pin, and a mystery item that has yet to be revealed.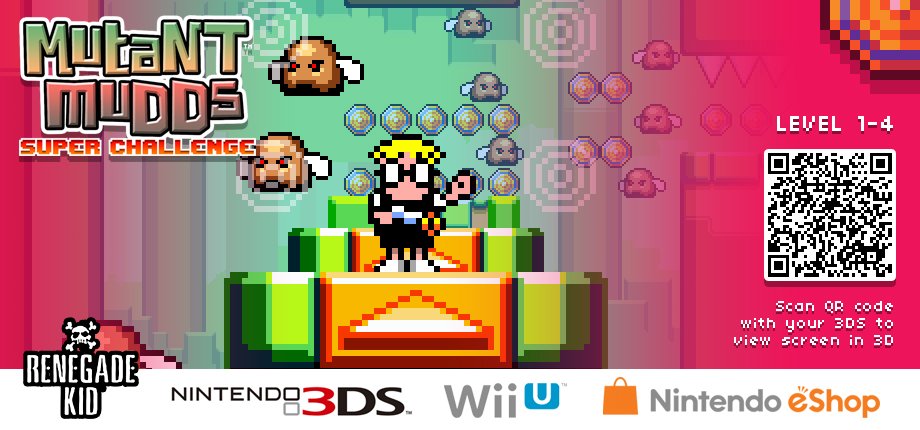 Mutant Mudds Super Challenge now has a release date and is coming soon
The wait is almost over, Mutant Mudds fans, as Renegade Kid's Jools Watsham has confirmed that the game's followup Mutant Mudds Super Challenge has passed Nintendo lotcheck and is now slated for a simultaneous release on Wii U and 3DS on March 17 for $9.99.
Additionally, there will be a 15% loyalty discount for anyone who has purchased the first Mutant Mudds or downloaded the Nindies@Home demo from earlier this year. Not bad at all!
If you haven't played the original Mutant Mudds yet, click here to check out our review. We'll have a review of Super Challenge in the coming weeks.
Source: NintendoLife
Rumor: Nintendo funding Beyond Good & Evil 2 as an NX exclusive for 2017
Here's a rumor that's bound to be exciting for Nintendo fans if true. It's too early to say how accurate this is, but according to one of Destructoid's sources, Nintendo is funding (to some unknown degree) the development of Beyond Good & Evil's sequel to secure it as an exclusive for NX in 2017.
If true, this would be a big win for Nintendo coming off a 2015 that saw Sony securing the Final Fantasy VII Remake exclusivity first. Does it mean BG&E2 would be a permanent exclusive? It's too early too say, but I doubt it; in all likelihood, this may be a half- or one year-exclusive to the platform, similar to how Microsoft's deal with Square Enix worked for Rise of the Tomb Raider.
In any case, Destructoid pointed out that their source had been correct with previous rumors before, so take it as you will.
Source: Destructoid
Rumor: Kensuke Tanabe no longer working with Retro Studios; behind-the-scenes drama to blame
For those who don't know, Kensuke Tanabe is best known as the director of Super Mario Bros. 2 as well as the producer behind Retro Studios' games since their inception, which makes this rumor all the more surprising.
According to Liam Robertson -- who accurately leaked the announcement of a new Paper Mario game for Wii U (which was confirmed as real yesterday) -- Tanabe has been on the outs in recent years with Retro Studio and was seen as increasingly hard to deal with by the studio. This led to a falling out that saw Tanabe replaced with someone else from NCL in Japan, possibly Yoshio Sakamoto, the co-creator of Metroid.
For more on the rumor, check out the source link below.
Source: Patreon (Liam Roberston)
Etrian Odyssey V coming to Japan in August
Those looking forward to Atlus' true follow-up to Etrian Odyssey IV will be glad to know that Etrian Odyssey V officially has a release date in Japan: August 4.
The game is set in a land called "Archadia" and will feature four different races and a newer sort of class system. Fortunately for those of us in North America, we may not have to wait long to play it as Etrian Odyssey games usually get localized and released within 6 months of Japanese releases. Perhaps we're looking at an early 2017 release in the US?
Source: Gematsu
---
What are your thoughts on some of these rumors? And will you be buying No Man's Sky and/or Mutant Mudds Super Challenge?